Let's Make Memories Together
Looking for the best hiking trails in Sedona? Whether you're getting ready to hike, bike, trail run, or explore other outdoor activities, the AIITrails website has 250 scenic trails in the Sedona area.
Enjoy hand-curated trail maps, along with reviews and photos from nature lovers like you. Explore one of 87 easy hiking trails in Sedona or discover kid-friendly routes for your next family trip. Check out some trails with historic sights or adventure through the nature areas surrounding Sedona that are perfect for hikers and outdoor enthusiasts at any skill level.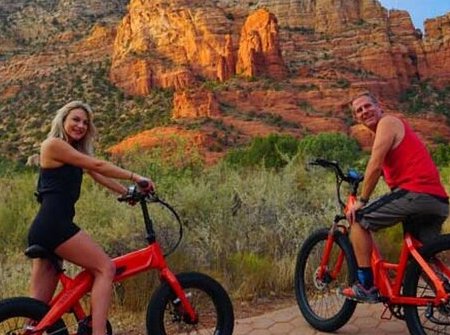 Cycling around Sedona is a spectacular way to see the rock formations, zip through traffic, and park anywhere. Hills are no longer a dreaded sight but rather an empowering experience! The electric assist motor matches the effort you put into your pedals. Each bike has four pedal assist levels that you will learn to use effectively from your tour guide. See Sedona differently on an E-Bike Tour!
You will be using 3rd generation military night vision goggles that will ensure you will see all kinds of UFO activity both in the sky and landing on the mountains around Sedona.
Welcome to First Class Charter and Tours, Northern Arizona's exclusive tour provider serving guests of Sedona's award-winning Resorts and Hotels for 20 years! Our tours are predominately private and we have excellent guides that are incredibly knowledgeable about the history, geology, archeology and legends of the Sedona-Verde Valley, the Grand Canyon and areas.
Discover the wineries of Sedona without the hassle of designating a driver. Traveling in a comfortable Mercedes-Benz Sprinter or stretch limo, you'll visit four boutique Arizona wineries.